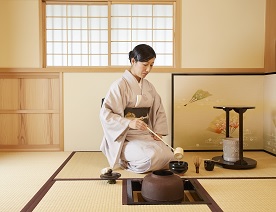 ABBA Resorts Izu (original Japanese name: Zagyosoh) has long been loved and treasured by many guests for over half a century.
It was the first ABBA resort in the world and is now considered one of the premier and authentic ryokan Japanese hotels in the nation.
We cherish every opportunity to provide the best hospitality service to our guests in a relaxing and authentic Japanese-style hotel ambience surrounded by nature.
We welcome you to our resplendent resort, which is rich in Japanese architecture, gastronomy, natural hot springs, and the famous Japanese spirit of hospitality, Omotenashi!
Overview
CHARM OF IZU
CONCEPT
SEASONS
CULTURE
DESIGN
The term World Geopark refers to natural parkland with geological qualities, terrain, and academic importance.
Izu Peninsula was formed by a volcanic island in the Pacific Ocean after it collided with Honshu (the Japanese mainland) approximately 600,000 years ago.
The topography of the island, which is one of the characteristic features of Izu Peninsula, was shaped by repeated crystal deformation and volcanic activity.
The peninsula offers visitors a spectacular view of the seasons.
Izu, Ukiyama Onsen (hot springs) area.
For more than 50 years, we have treated every guest with the hospitality for which we are now well-known.
The name of our hotel translates to "like sitting and fishing."
Our name signifies the revitalization of souls and the deep relaxation that can be found in Japan via its ancient traditions and rich natural landscapes.
Our aim is to showcase the best aspects of Japanese hospitality to the world.
During spring and winter, we recommend the spectacular Cherry Blossom Izu Festival as a must-see event.
At the resort, you can enjoy the cherry blossoms for a long duration from January to April because there are different varieties of cherry trees in the region.
Culture is at your doorstep. The Sword Art Gallery,
which displays rare and precious antique swords, offers an exclusive glimpse into Japan's cultural history.
As you slip off your shoes and enter the tranquil and fragrant atmosphere of your guest room or villa, you will find an elegant room that was designed with a minimalist and elegant Japanese-style and has floor-to-ceiling glass doors that open out to your personal garden paradise.
End your day by sinking into the warm open-air baths circled by old bayberry trees, delicate iris flowers, and Japanese spurge.
Japanese Cultural Experience
-Moments of peace
Enjoy traditional Japanese culture and hospitality with a purely Japanese-style resort that is steeped in nature's bounty.
At ABBA Resorts Izu, we provide a wide variety of activities that will immerse you in the beauty of the seasons and the richness of Japanese traditions.