Facilities

Wherever your mood takes you
Wherever your mood takes you, you will find a place where you will forget time and enjoy every precious moment surrounded by art and nature.
The trees growing in our natural gardens are 400–500 years old. ABBA resort was designed with the preservation of the trees in the surrounding areas in mind.
Samurai Swords Gallery
Gi no Kokoro
We The owner's private colleciton of Samurai swords, a number of valuable, precious works are on display.
In the near future, we plan on displaying rare works exhibited for the first time in Japan.※ A reservation is required to view the gallery.
Please contact us for more details.
Find a variety of souvenirs and delights from Izu.
Delivery services including refrigerated parcel delivery are available.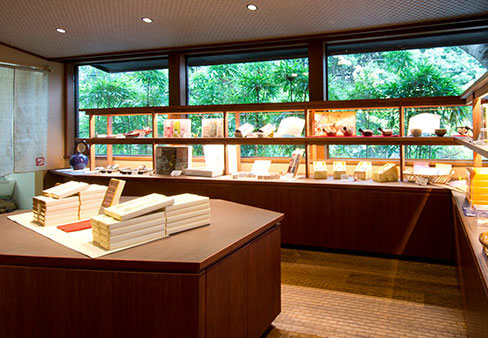 The banquet hall may be used for social gatherings, banquets,
exhibitions, after-parties, corporate events, and the like.
The hall is also a perfect place for meetings.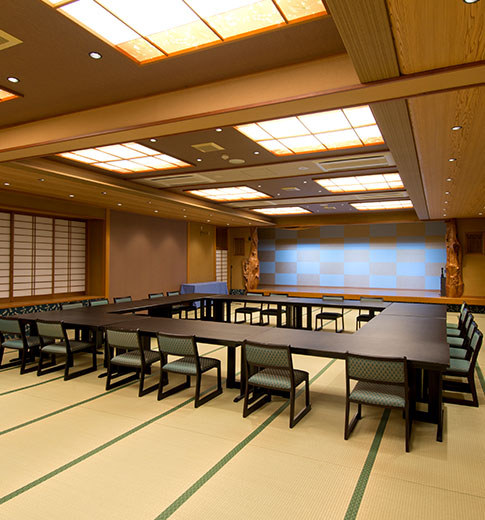 Our resort boasts of six different and well-equipped Onsen, including a large public bath with a view of bayberry trees, an outdoor bath in the garden, and an outdoor bath with a private view of Sagami Bay.
Weak alkaline simple fountains offer our guests the wonderful and varied benefits of water from the hot springs.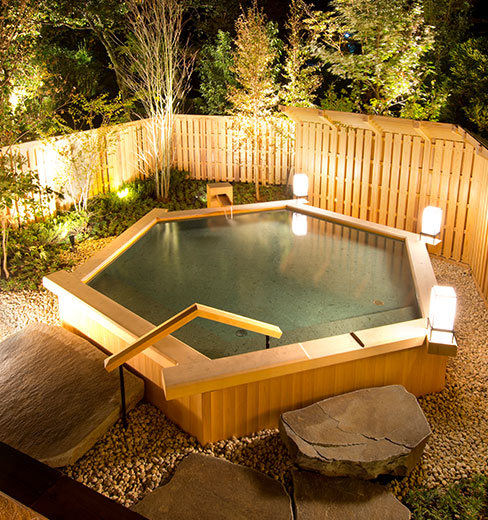 Tea house
Yamamomo-An Hermitage
Experience an authentic Japanese tea ceremony in a real Japanese tea room with Nijiriguchi.
Guests enter through an extremely small entrance by bowing their heads low.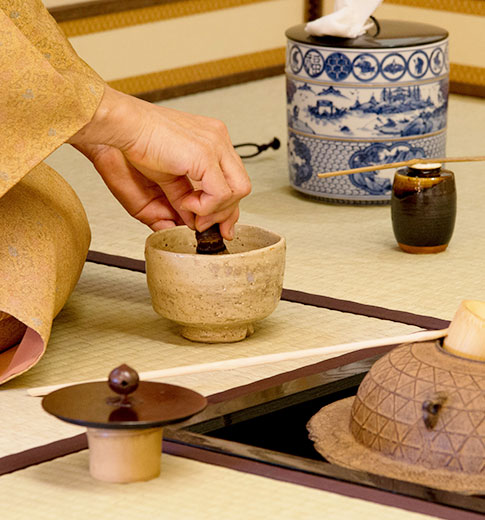 French Restaurant
"Yamamomo"
The 1st floor dining hall consists of floor seating,
2 private rooms, and a tea-ceremony room.
There are 3 private rooms as well as a Teppanyaki corner on the 2nd floor.
The 1st floor overlooks the garden for an open, spacious environment,
while the 2nd floor offers a refreshing view of the Izu Sea.
| | |
| --- | --- |
| Hours / Breakfast | :07:30~10:00(L.O.09:00) |
| Lunch / Tea Lounge | :11:00~15:00(L.O.14:00) |
| Dinner | :17:30~21:00(L.O.20:00) |
French restaurant Yamamomo
Teppanyaki - Private Grill Room
Enjoy fabulous meet and seafood privately prepared by the chef right in front of you.
Only 6 guests available per Teppanyaki luxurious corner seats.
| | |
| --- | --- |
| Hours / Dinner | :17:30~21:00(L.O.19:00) |
| Teppanyaki Lunch | :11:00~15:00(L.O.14:00) |
*Teppanyaki lunch is required reservation in advance.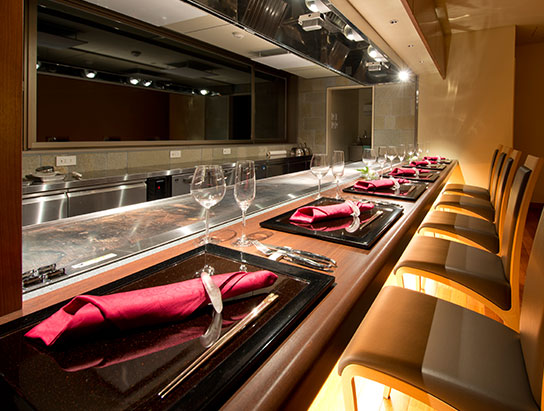 Japaneseh Restaurant
"Sakura"
Japanese restaurant "Sakura" has 14 private rooms on its 1st and 2nd floor.
Enjoy breakfast and dinner in relaxing,
private rooms equipped with chairs and tables for better comfort.
| | |
| --- | --- |
| Hours / Breakfast | :07:30~10:00(L.O.09:00) |
| Dinner | :17:30~21:00(L.O.19:00) |
How about a pleasant chat before bed in a bar with the perfect mellow atmosphere?
The bar offers a wide variety of Japanese or western beverages.
2 karaoke rooms equipped with the newest karaoke systems are also available.