2017/11/10 NEWS
WON ASIA'S BEST CULINARY BOUTIQUE HOTEL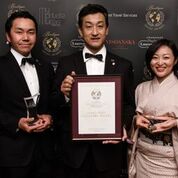 The winners of the World Boutique Hotel Awards 2017 were announced on 9th November 2017 at the glittering Awards ceremony held at the Merchant Taylors' Hall, London. The annual ceremony brought together an array of boutique hotel owners, travel press and travel industry influencers from all four corners of the world. The World Boutique Hotel Awards is the first and only international awards organisation exclusively dedicated to recognising unique excellence among boutique hotels, and we are proud to announce that Abba Resorts IZU, Japan was named Asia's Best Culinary Boutique Hotel.

The Review of the Award inspector said on the official site, "Nestled in a quiet corner of the lush coastal geo-thermal countryside 2 hours south of Tokyo" "The French restaurant Yamamomo offers tea-pairings for each course. Rare and local teas were mixed into sophisticated mocktails."

"It's our great honor to win such a reputable award even though it's a small traditional Japanese Ryokan.  I'd like to appreciate to my entire staff member for delivering Japanese "O MO TE NA SHI" to guests. ", said Mr. Windsor Yeh , owner of ABBA RESORTS IZU. "ABBA RESORTS IZU is the first property of ABBA Resorts and to be celebrating 50 years anniversary next year.  This award marked ABBA Resorts' name in the luxury segment and proved our international-level quality of services and facilities".