Cuisine
As the seasons change,
we provide seasonal tastes of Izu
with our culinary skills
For dinner, guests choose from Japanese Kaiseki, French cuisine or teppan-yaki.
For breakfast, choose from a Japanese or western style breakfast.
Japanese Cuisine
Extravagant cuisine by
our masterful chef
Experience an array of dishes that display our masterful chef's exemplary sense of taste through our Kaiseki cuisine.
A new menu is created each month with precise attention to detail.
We use the freshest local ingredients such as fish from the Ito fish market and organic vegetables from our contracted farmers. Colorful ingredients and garnishes will please your eyes, while their essential flavors are utilized in a variety of dishes to create a gourmet bliss.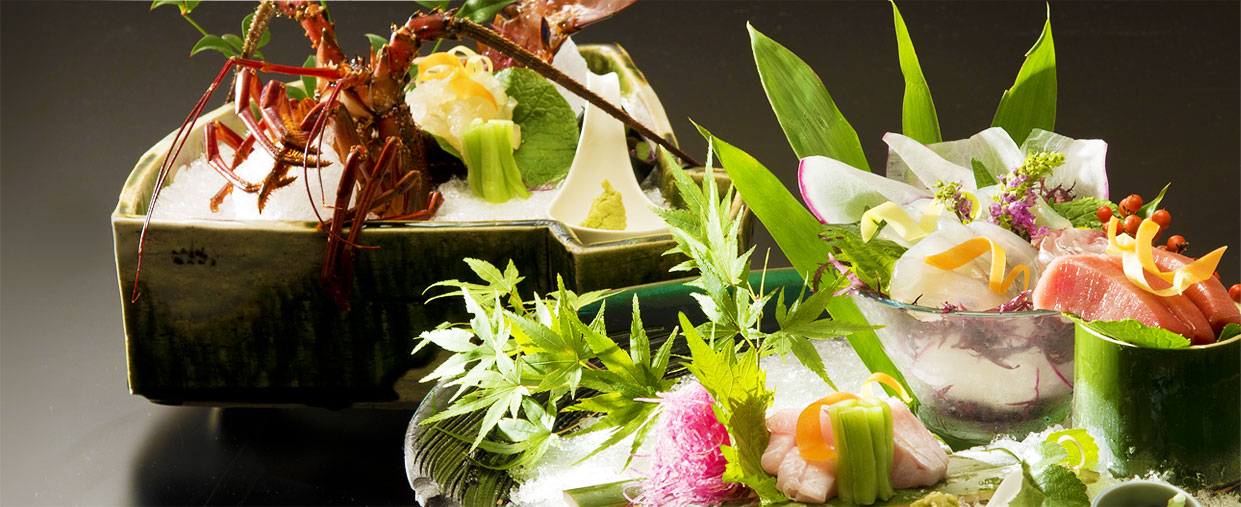 We have a number of different local liquors and house made fruit wines that you can only experience here.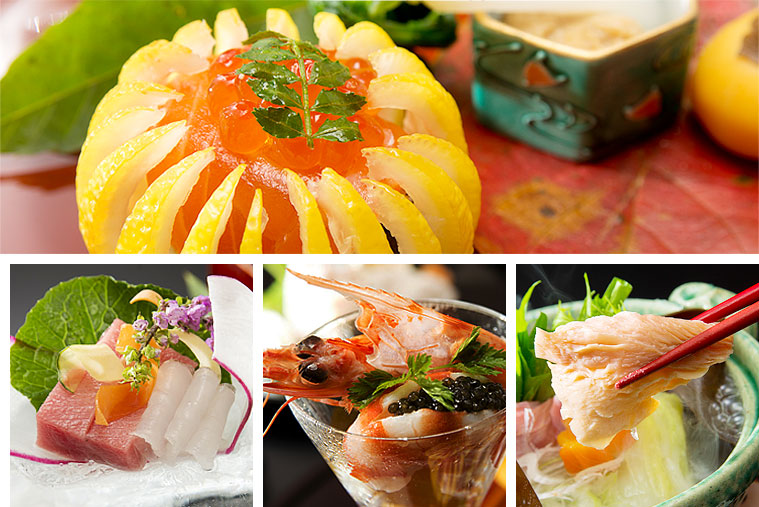 Our head chef's specialties
Zagyosoh's Special Puffer Fish Kaiseki
"Zagyosoh's Special Puffer Fish Kaiseki."
Our natural Fugu, puffer fish, is freshly caught from Enshunada in Shizuoka Prefecture and is an incredibly special experience that our guests are able to experience through this course.
Our chef has received one of the
highest awards for Fugu
preparation from Shizuoka Prefecture.
As a part of the initiative to create a food capital for Fugu,
this award is presented to chefs and pastry chefs who have
contributed to promoting the agriculture,
forestry and fisheries of Shizuoka Prefecture,
along with its food culture and
who actively utilize the prefecture's ingredients.
Our hotel chef is proud to have received this award.
We also accept orders for other cuisine.
In addition, Izu specialty red snapper dishes are also available.
Abalone

Abalone is prepared as sashimi, grilled or steam-roasted,
as a Japanese steak or shabu-shabu

Zagyosoh specialty marbled rockfish

Prepared simmered in soy sauce, deep fried or as sashimi

Japanese black Wagyu beef

Prepared sukiyaki or shabu-shabu

Ise Lobster

Prepared as sashimi, roasted in the shell or simmered in soy sauce
Japanese Style Breakfast
Perfectly cooked, fluffy rice from a traditional rice kettle and an array of dishes that will tantalize your appetite. Enjoy a delicious breakfast you can only find at a traditional Japanese hotel.
Japanese Restaurant - "Sakura"
"Sakura", a Japanese restaurant, has 14 private rooms on the 1st and 2nd floor.
Enjoy breakfast or dinner in a relaxing private room with table and chairs for better comfort.
Hours &
Availability
◇Dinner -
5:30PM - 8:30PM
◇Breakfast -
7:30AM - 10:00AM
French Cuisine
Please Enjoy the taste beyond description
Our gourmet cuisine focuses on locally produced ingredients and by taking advantage of the blessings of nature. Our chef takes these local ingredients and incorporates the knowledge and feelings of those who produced them into completely new cuisine that is somehow nostalgic.
We are also proud to use "local native grown varieties of vegetables."
Our cuisine will not only dazzle your taste buds but your eyes as well.
Teppan-yaki
Our French chef will prepare a number of authentic dishes on the grill right in front of you.
Dine on select beef as well as fresh fish and vegetables from Izu and enjoy the wonderful flavors of hand-picked ingredients. We also have a large selection of wines.
Western-Style Breakfast
Enjoy sparkling wine or freshly squeeze juice, fresh vegetables and fruits and many other selections on our half buffet.
There is also handmade bread and different egg dishes to choose from.
Lunch
Our restaurants are also available to people who are not staying the night with us.
We hope you come visit us and enjoy one of our courses made with in season Izu ingredients or our a la carte menu in the middle of the great nature.
French Restaurant - "Yamamomo"
The 1st floor has floor seating, two half private rooms and a tea room.
The 2nd floor has one private room and two half private rooms and a restaurant with teppan-yaki area.
On the 1st floor, guests can enjoy a meal while looking out at the spacious garden and on the 2nd floor the magnificent ocean expands to the horizon.
Hours &
Availability
◇Dinner -
5:30PM - 8:30PM
◇Breakfast -
7:30AM - 10:00AM
Teppan-yaki Area
The restaurant has a teppan-yaki area where our chef will prepare a hot meal right in front of you.
There are a total of six seats and we have a large wine selection.
Hours & Availability
◇Lunch - 11:00AM - 2:00PM(L.O.)
◇Dinner - 5:30PM - 8:30PM
*Please make a reservation to experience the teppan-yaki lunch.